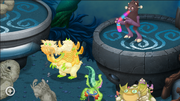 View mode may be activated by pressing the button located in the lower left corner of the screen when viewing any island. In view mode, the user interface is hidden, allowing players a wider view of their island. Pressing the same button again will exit view mode, and the interface will reappear.
Several decorations make noises when tapped in view mode. These include:
Ad blocker interference detected!
Wikia is a free-to-use site that makes money from advertising. We have a modified experience for viewers using ad blockers

Wikia is not accessible if you've made further modifications. Remove the custom ad blocker rule(s) and the page will load as expected.