My Singing Monsters has passed through numerous updates since its original release. Here is a list with the those updates and what they brought to the game.
Though primary development of the game is done by Big Blue Bubble for mobile devices, the Windows version is built and distributed by Big Fish Games. There are some differences between the release streams, and the Windows version features sometimes lag behind the mobile versions. In fact, it seems that the Windows version seems to stay at Version 1.2.9.
Also, several versions of My Singing Monsters had shut down at certain points. The Facebook PC version shut down on TBA (2015 or so). The Big Fish Games Windows version shut down on July 6th 2018, around 3 years since it was last updated.
Version 2.2.1
An update of cosmic proportions has crash-landed in My Singing Monsters! Discover Celestial Island, an Island birthed from the collision of the mystical Starhenge and an unknown Colossal. Celestial Island is home to the Celestials, a new species of Monster first seen in My Singing Monsters: Dawn of Fire! Their journey to Celestial Island has left them petrified, and they need your help. Collect Monster Eggs to revive 5 new Celestial Monsters, and get ready for many more!
In this update:
New Island: Celestial Island!
New Monsters: five Natural-Element Celestials, now with a new look!
Zap Eggs to dormant Celestials to revive them!
Detailed info:
28th June 2018
Updated map.
First 14 days of release has discount of Celestial statues by 33% off.
Version 2.2.0
We squashed a few bugs to improve your playing experience. Thanks for playing and Happy Monstering!
Detailed info:
14th June 2018
Weird bug where a special 20-diamond reward, of which that one celebrates the Version 2.2.1 release on 28th June 2018, has the message written as the variable name for the Mailbox message instead of the actual message.
Version 2.1.9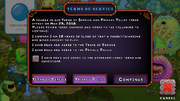 Big Blue Bubble has taken steps to ensure that this title is in compliance with the EU General Data Protection Regulation (GDPR). The GDPR is designed to protect the privacy of EU citizens by regulating the collection of personal data.
The following Big Blue Bubble policies have been updated to comply with GDPR standards:
Privacy Policy (www.bigbluebubble.com/privacy-policy/)
Terms of Service (www.bigbluebubble.com/termsofservice/)
Fan Content Policy (www.bigbluebubble.com/fan-content-policy/)
Big Blue Bubble recommends that all players familiarize themselves with these updated policies.
The changes made to these policies are part of Big Blue Bubble's ongoing dedication to publishing mobile games that are as transparent as they are entertaining.
Detailed info:
24th May 2018 released (US time), which is 25th May 2018 during the time when the EU General Data Protection Regulation started.
New updated privacy checkbox menu. This will affect all accounts that have logged on from 25th May 2018 and later.
Version 2.1.8
Test your luck at the all-new Spin Wheel in the latest update to My Singing Monsters! Earn awesome prizes like Coins, Food, Diamonds, Relics, and Keys in the Spin Wheel, or win more great rewards in the freshly redesigned Memory Game. Plus, enjoy more Daily Login Bonuses than ever, and even continue a broken login streak!
In this update:
Daily Spin Wheel loaded with prizes!
New Memory Game design — match the cards!
More Daily Login Bonuses
Option to continue a broken login streak
Add decorative Paths underneath Monsters
Detailed info:
18th April 2018 release
Upon opening the new Memory Game for the first time, it will announce the changes of the new Memory Game.
Memory Game is now a card-matching game.
Memory Game prizes have now changed to a random card pick, which includes coin rewards, food rewards, diamond rewards, relic rewards, and key rewards.
Scratch Ticket for currency rewards is replaced with Spin Wheel; Scratch Ticket for monster eggs remains unchanged.
Paths cannot overlap each other, but can be now placed directly under monsters, decorations, and structures.
Version 2.1.7
(Note: Description is basically the same as Version 2.1.6's description)
Detailed info:
22nd March 2018 release
Bug Fixes
Version 2.1.6
The Dipsters have burrowed into a new home: Ethereal Island! These one-note-wonders are excited to "dip" along with your favorite Ethereals. Plus, the Book of Monsters has received a major makeover, making it easier than ever to keep track of your Monster collection! That most splendorous of Seasonal Events, the Eggs-Travaganza, kicks off with the return of the Blabbit, available to buy or breed for a limited time. This rascally Monster is responsible for the egg-centric redecoration of Water Island, tucking painted eggs into the branches of Trees and morphing Rocks into unusual sculptures. Hoppy days are here again!
In this update:
Dipsters are now available on Ethereal Island!
Re-designed Book of Monsters!
Blabbit on the redecorated Water Island!
Bug fixes and optimizations
Detailed info:
14th March 2018.
New icon beside map.
New format of Book of Fabled Monsters is now a group of monsters.
Version 2.1.5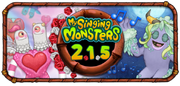 Cold Island just got way cooler with the discovery of an all-new Werdo: Maggpi! In addition, the lovestruck Seasonal Monsters Schmoochle and Rare Schmoochle are winging their way back to Air Island, to complement its Season of Love makeover!
In this update:
New Monster: Maggpi the Werdo!
Schmoochle and the Season of Love return to Air Island
Bug Fixes and Optimizations
Enjoy singing along with Maggpi, and Happy Monstering!
Detailed changes:
7th February 2018.
Cold Island "Nobody likes me" verse repeated
Island music will still play when there is a messagebox from Big Blue Bubble.
Removed Christmas icon.
Version 2.1.4
We squashed a few bugs to improve your playing experience. Enjoy celebrating the Festival of Yay, and Happy Monstering!
Detailed changes:
Released on December 20th 2017.
Version 2.1.3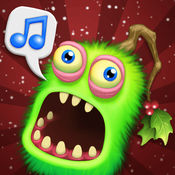 A heartwarming Festival of Yay celebration!
The Festival of Yay has begun on Cold Island! Celebrate the season with festive decorations and cozy winter outfits for your favorite Monsters, plus the return of the jolliest Seasonal Monsters: Yool and Rare Yool! You can now give your Monsters the gift of an all-new healthy Treat from the Large Bakery, and level them up even more than ever before. When a Monster achieves the new max level 20, it will radiate a special glow. What's more, every level your Monster achieves above 15 increases its chances of finding bonus items like special currencies, so keep leveling up!
In this update:
Cold Island and various Monsters decorated for the Festival of Yay
The Seasonal Monsters Yool and Rare Yool available for a limited time
Monsters can now reach Level 20
Monsters above Level 15 have chance to find special currencies, like Keys or Relics
New Treat - Big Salad
New Max Level Cap of 75 with new Monikers
Bug Fixes and Optimizations
Enjoy celebrating the Festival of Yay, and Happy Monstering!
Detailed changes:
December 7th 2017 released.
Version 2.1.2
A Haunted Halloween on Plant Island!
The Spooktacle Seasonal Even is in full swing with the arrival of Punkleton bringing costumes for the Monsters, and appearances by the elusive Rare Punkelton. That's not all though... the Monster Handlers have a special surprise for you! The mysterious Werdo Tawkerr has been spotted wondering Cold Island, singing brand new lyrics, and it'll join your Monstrous menagerie as long as you have enough Relics.
In this update
Tawkerr is now available on Cold Island!
Bug Fixes and Optimizations.
Detailed changes:
November 2nd 2017.
Cold Island song changed so that Mammott sings at the end verse and Deedge also plays at the end verse. Bug for Deedge animation at end verse now appears.
Version 2.1.1
We hoped you've enjoyed our #mon5ters Anniversary Month celebrations! There are still a few days of promotions, and special offers to help you expand your Singing Monster collection, and lots of look forward to as the future of the Monster World unfolds...
In this update:
iOS 11 compatible
Bug fixes and optimizations
Thank you for playing, and Happy Monstering!
Detailed changes:
27 September 2017 released.
Poorer support for iPhone 4S.
Version 2.1.0
CELEBRATING 5 YEARS OF MY SINGING MONSTERS!
#mon5ters
It's Anniversary Month! Upholding the yearly tradition, September will be a whirlwind of special offers and promotions – check back each day so you don't miss out!
This year, there's more cause for celebration than ever - the Wublins have gotten in the mood by putting up Decorations as they welcome a long-awaited visitor: the Wubbox! Elsewhere, other Monsters are excited about the new Mailbox, where you can receive news and gifts from the Monster-Handlers, including special Anniversary Month giveaways! Finally, Composer Island Monsters have learned how to sing notes of length, allowing for creative possibilities like never before!
In this update:
Decorations on Wublin Island
New Mailbox Feature
Notes of length on Composer Island
Improved Help system, including easier navigation
Bug fixes and optimizations
We couldn't have done it without you. Thank you for playing, have a Monstrous Anniversary Month, and Happy Monstering!
Detailed changes:
New app logo.
August 31st 2017 released.
News is no longer there. Replaced by Mailbox, with similar user interface to a combination of Dawn of Fire's Bulletin Board and Mailbox.
Adjusting note length of notes requires pulling an arrow of a note to whatever length is necessary.
Help system is more of an FAQ; original help of all general things is removed.
Anniversary Month of September 2017 is included.
"Like" and "Dislike" buttons are now "Upvote" and "Downvote" buttons respectively.
Version 2.0.9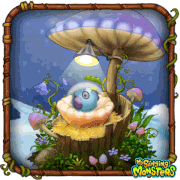 The Monster-Handlers are always working to 'tune' things up! Here's some new improvements:
Sprucing up the look and feel of the Book of Monsters
Rare Monster eggs can now be identified by a special shimmer!
Added Scratch Ticket and Daily Login Bonus to Notifications menu
Bug fixes and optimizations
Thanks for playing, and Happy Monstering!
Detailed changes:
Released August 2nd, 2017
Updated icon for the Book of Monsters
Updated Island button in Book of Monsters
New images surrounding the heading in Book of Monsters
Island selection button now says 'Go', now animated to bounce
Eggs of Rare Monsters in structures now Shimmer
Ability to enable and disable notifications for Scratch Tickets and the Daily Login Bonus
Fixed Water Island song, normally loops
Version 2.0.8
Bug fixes and optimizations
Detailed changes:
Since 1st June 2017, all versions before this update are no longer supported, including Version 2.0.3.
Version 2.0.7
Bug fixes and optimizations
Version 2.0.6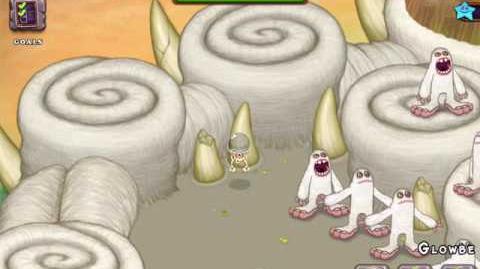 Light up your Island!
The Glowbes have come to Composer Island! After spending 2 years as residents of the Monster World, these luminous beings have been granted honorary Monster status. Choose their color and timing and create a Monstrous light show to go along with your own compositions!
In this update:
Glowbes are now available on Composer Island
Bug fixes and optimizations
Thanks for playing, and Happy Monstering!
May 5, 2017
In Composer Island, instead of having to mix Glowbes of different colors, you arrange the color order.
Even more Version 2.0.3+ support.
Seems that iOS 6 and 7 will no longer be supported forever for newer versions of My Singing Monsters; only up to Version 2.0.3 supports these older operating systems.
Version 2.0.5
Bug fixes and optimizations
Detailed changes:
Still no support of iOS 6 and 7. Version 2.0.3 still supported.
Version 2.0.4
Welcome the Werdos!
Add the final touch to your Plant Island with the all new Werdo Monsters. To unlock the Werdos, collect the all new relics and prepare to be blown away when you hear how their unique VOICES really take the Island's melody to the next level!
In this update:
All new Werdo Monsters
Collectable Relics
Bug fixes and optimizations
Detailed changes:
Released 14th March 2017.
Different Quibble sound Composer Island.
iOS 6.0 and iOS 7.0 unsupported. Requires at least iOS 8.0 now. Version 2.0.3 apparently still works on those devices.
Faster tapping on devices.
You can now get Keys and Relics from Scratch Tickets and Daily Rewards.
Asks for free next ticket instead of asking for double, if done scratch ticket.
Better sound balancing.
Altered Plant Island.
Grid mode available when moving monsters, structures, or decorations.
Version 2.0.3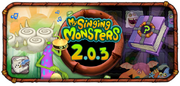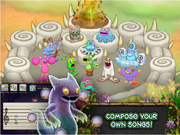 My Singing Monsters - 2.0.3 Composer Island
Create your own Monstrous Melodies with Composer Island!
You've discovered the songs of the Singing Monsters, and now it's time to make your own! With the emergence of Composer Island, you now have to power to craft new musical parts for your Monsters, and create your own Monstrous Melodies, or recreate some of your favorite songs! Also coming to light is the fabled Book of Monsters; accessible from the Map menu, this handy catalog will help you keep track of your Monster collection so you'll always know how many species you've discovered!
Also in this update:
Further improvements to the Map menu, including better organization of Mirror Islands
New Record button beside the View Mode toggle to make gameplay recording easier than ever
Bug fixes and optimizations
Detailed changes:
Released on 18th November 2016.
Added recording function that can be recorded anytime anywhere in the game, like Dawn of Fire. Used to be no recording function mysteriously in some random update before previously.
Changed Map format to accompany the addition of Composer Island.
New organisation of being able to look at what monsters you have collected and how many monsters you can unlock on the islands. That is in the "Fabled Book of Monsters".
Link of new version here.
Version 2.0.2
Bug fixes and optimizations.
Released 7th November 2016.
Community Codes discontinued in all updates since 7th November 2016.
Keys can now be sent to friends every week, rather than every month.
Maintenance of the servers in 2pm-3pm EST 7th November 2016 has allowed all players of Version 2.0.2 to have their key-gifting timers reset to zero, thus allowing another key to be sent even if they sent a key several days before this server maintenance.
Version 2.0.1
CELEBRATING 4 YEARS OF MY SINGING MONSTERS!
NEW - Monster stickers: iOS 10 Exclusive!
Detailed changes:
Released TBA date
IOS device exclusive update.
Added stickers exclusive to IOS 10.
Version 2.0.0
CELEBRATING 4 YEARS OF MY SINGING MONSTERS! Over the years, the Monster World has evolved in ways we never could have guessed. Now, the evolution continues with the introduction of Mirror Islands , alternate versions of the Natural Islands that have been lost in time and space. These 'blank canvases,' strewn with artifacts and debris from their interdimensional tumblings, offer new worlds of creativity to continue your musical adventures.Upholding the tradition of our Anniversary Month Celebration, September will be a whirlwind of special offers and promotions – check back each day so you don't miss out!
Also in this update:
Graphical facelift – menus and buttons have been reimagined in glorious color and detail
Based on player feedback, the Map menu has been restored to its regular appearance
More Wublins and Rarethereals are on the way
We couldn't have done it without you. Thanks for playing, and Happy Monstering!
Detailed changes:
Released on 31st August 2016.
Overall graphical interface changed completely. New currency icons, new sound effects, new startup screen, new font, new everything, except maybe some Structures and all monsters.
Castle added Castle sound effect like DoF does. Some added sound effects when interacting Structures.
There are some modifications with some sound effects, with some being replaced by other sounds.
Plant Island and Shugabush Island's ambience changed. Wublin Island adds ambient electric sound effects. Ethereal Island updated ambience. Gold Island's ambience was removed.
Some Dawn of Fire stuff have been revealed in the game, expanding the My Singing Monster universe's content and history scope.
Unfortunate as it is, Rares in the Starshop are restricted and are now only available by a rotation basis.
Added the ability to move a movable object or monster by holding down on it.
The My Singing Monsters and Dawn of Fire servers had been down from 3rd September 2016, 00:00 UTC to 4th September 2016, 3:00 UTC, for some technical reason. Possibly, this may have been caused by a hacker rebellion against the removal of Rare Monsters from the StarShop.
The notifications that you receive can be toggled. Options of types of notifications that are included in this version include "Breeding Complete", "Hatching Monsters", "Upgrading Castle", "Baking Treats" and "Mines Are Full".
If the servers are down deliberately by the Monster Handlers due to server maintenance, a notice of "server maintenance" will be clearly stated as the notice instead of the more vague "connection issues" notice.
Added percentages for "Downloading data" for extra player patience.
Added Rare Wubbox to Recording Studio.
Modified Rare Wubbox idle animation so that it always leaves its mouth smiling, rather than fully closed all the time whenever idle.
Newly added pop-ups of messages of "enjoying the game?" and stuff like that. Also applies to Dawn of Fire. Started happening since September 1st 2016.
Stickers of My Singing Monsters available in iOS 10 players in the iMessage app.
Re-added Furcorn in tutorial. Also updated icons in tutorial too.
Version 1.4.3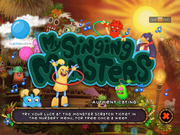 Bug fixes and optimisations.
Detailed changes:
Released at 11th July 2016.
If a Chief of a Tribe, placing new monsters (only new members of the tribe) also earns XP, equal to whatever the placed monster is.
There used to be a glitch where placing monsters on Gold Island would show XP being earned but actually doesn't. This only occured in one build of My Singing Monsters; no other time else otherwise.
The update must be downloaded to continue playing as of 15th July 2016.
The Hoola was re-released on 15th July 2016.
The Rare Hoola has been introduced for the first time in 16th July 2016.
The Version 1.4.2 screen was used after the Summer seasonal change was over.
Version 1.4.2
UNLOCK THE DIPSTERS!
Uncover a new collection of Monsters buried deep underground: the Dipsters! Each Dipster sings its own note in a musical scale – combine them to create magical melodies on your Islands. Unlock the Dipsters using Keys, a new form of currency you can gift to your friends. The more friends you have, the more Keys you can receive, the more Dipsters you can collect!
In this update:

Details of this update:
Absolutely no iOS 5.0 support whatsoever.
Released on 1st July 2016
Tympa released on the same day, but is still available in Version 1.4.1.
Changed layout of where the currency placement is in. The Keys display is placed where Starpower display used to be; Starpower display is placed directly below it.
New logo with an in-game Furcorn displayed on it instead of the 3D Mammott and Furcorn.

For iOS, the Furcorn is not 3D and is facing towards the right.
For Android, the Furcorn appears to be the original 3D Furcorn except with its eyes looking at the front instead

Added plus icon next to currency display, consistant with Dawn of Fire.
New startup screen. Also features Furcorn for the "O" shape of the MSM wordmark.
New menu of breeding completion, yet again. Now it also includes whenever starting up breeding or sending bred monster to the Nursery.
Placing Wublin statues gives 1 exactly. Used to not give XP for this.
Version 1.4.1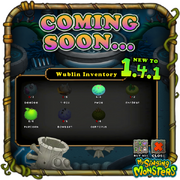 Thank to our players' feedback, we've made some improvements to Waking up Wublins!
In this update:
Adding a 'Zap it' button to the Wublin Statues menu
Condensing the Wublin Inventory menu to stack Monster eggs of the same type
The mysterious entity behind these Supernatural beasts is tirelessly toiling in its workshop on new types of Wublins. What's more, the discovery of Rarethereals means there's a whole new host of Monsters waiting to be collected! Stay tuned to get them all!
Thanks for playing, and Happy Monstering!
The Monster-Handlers
Detailed changes in this version:
Released on 7th May 2016
Wublin Inventory has improved. More neat sorting of how many eggs left. Link of details of this aspect is shown here.
The My Singing Monsters game servers are upgraded. All devices with iOS 5.0 are no longer supports this game, making iPod 3 and iPad 1 devices no longer compatible with the game. However, other devices with iOS 5.0, such as iPod Touch 4, iPhone 3 and iPad 2, can be upgraded to iOS 6.0 or newer. Link here.
An improved News function, where pressing News button leads to a list of news, similar to Dawn of Fire's format of the Bulletin Board.
Added animations of collecting Daily Login Bonus currency rewards.
The Carousel of Coinage (102,500,000 coins), Ladle of Diamonds (18 diamonds) and the Garage of Groceries (2,992,000 food) premium items were added, probably to fill in the missing purchase gaps.
For players who log in through anonymous login, deleting My Singing Monsters will lose all of the progress from their device, even if they plan to reinstall the game. Link here.
Version 1.4.0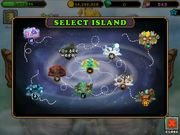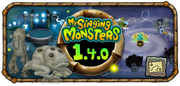 Are you ready to wake up the Wublins?
With the help of players from around the world, Blabbit's Scroll revealed the existence of a newly-formed island! But while Blabbit had hoped this discovery promised more eggs for it to 'borrow,' it turns out that eggs are meant to be Zapped to Wublin Island instead! Coursing with the Supernatural element of Electricity, it is the playground of the Wublins, a race of Monsters unlike any before. You'll need to keep your wits about you and collect lots of eggs to wake up these creatures in time. The rewards will be great – Wublins produce all kinds of currency and perform an exciting new song!
In this update:
A new Map of the Monster World!
Watch videos to speed up breeding and incubating, as well as increase your Scratch Ticket prize!
Bug fixes and optimizations
Detailed changes in this version:
Added sound effects for Kayna breaking out of the amber.
Added the option to zap an egg to Wublin Island or put an egg into the Nursery, as well as the option to cancel taking any action. Option only appears upon unlocking Wublin Island at Level 13; otherwise it acts how it does in previous versions.
The "increase of Scratch Ticket prize by watching a video" changes the prize amount by twice the original amount.
Watching videos to "speed up" breeding and incubating is more precisely decreasing breeding or incubation times by 15 minutes.
The Rare Ghazt, being the first ever "Rarethereal", was released at 22 April 2016.
A permanent help button across all natural islands appears in the bottom buttons. Clicking the help button will show all of the main instructions of how to play the game.
The Zuuker, another Wublin, is released on 29th April 2016.
Version 1.3.8 & 1.3.9 (Android)
Happy New Year! 2016 promises to be an exciting time, with new content and features in the works that will delve deeper into the unexplored corners of the Monster World. Meanwhile, there are always improvements to make and bugs to squash!
In this update:
Tribal Chiefs can now change the name of their Tribe
Invitations and requests to join Tribes now serve the correct messages
Resolving other graphical and technical bugs on Tribal Island
This version was released somewhere around 26 January 2016. If you still have got Version 1.3.7 during around Late January to Early February, everything will still work as normal. Some further additions in this version include the added exclamation point notifications on the map and "tribal" buttons if the there are any pending requests to the player's own tribe or from someone else's tribe.
Version 1.3.9 was released on March 1, 2016 in the Google Play Store, it contains mostly bug fixes.
Version 1.3.7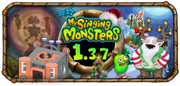 Emerging from a portal through time and space, the Rare Wubbox premieres on Plant Island just in time for the holidays! You'll need to source your Rares collection to satisfy this creature, so stock up on Starpower from Tribal Island, and keep an eye out for special Rare promotions! Also in this update:
The Seasonal Yool's return to the decorated Cold Island is made merrier by the heart-warming festive attire of its fellow monsters! Check back often for new outfits!
Graphical updates for user interface
Bug fixes and optimizations
Also included in this version, the coins, diamonds and food currency numbers have changed colors to their respective currency colors. The numbers that represent coins turns dark gold, the numbers for the diamonds turns turquoise, for treats that is donut-icing pink, shards is purple, while Starpower's numbers are baby blue.
Cold Island Christmas was still available back in Version 1.3.6. During Version 1.3.7, the 3D-esque Mammott and Furcorn have dressed up in their respective costumes. The Mammott wears a Santa hat, while the Furcorn has a holly for a leaf.
Version 1.3.6
Remember Starpower? Of course you do! The Tribal currency's true worth has been revealed – to be redeemed in the all new StarShop available in the Market! Spruce up your Natural Islands with all-new Decorations and get Rare monsters whenever – you'll be needing them…
What? There's more? You bet!
Inspired by player feedback, Starpower is now calculated based on your individual contributions, and increases the more members you have in your Tribe.
Improvements to the Tribal Menu, including the option to join a random Tribe
Way cooler Level Up screens, including animations
Bug fixes and optimizations
​Also from this update, whenever anything, from monster to decoration, is placed in a spot where it cannot be placed, it will appear red, rather than the tile space appearing red. Also appearing was the Christmas special. The Yool became available and Cold Island was decorated in Christmas decorations.
Version 1.3.5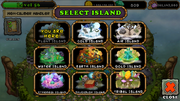 The game-changing Tribal Island is here! Just as the last of the Rare monsters was revealed, this extraordinary new realm sprang into existence and ignited a new challenge for novice and seasoned players alike. It's up to you to form a Tribe with your Friends and keep your monster well-fed to raise your Tribal Level, earn Starpower, and redeem Tribal Rewards. you may even unlock an ancient secret of the monster world!
Also in this update:
By popular demand, you can now sell Monsters and Decorations directly from the Hotel and Storage Structures!
Bug fixes and optimizations.
This release was the first one to be available on iOS and Android on the same day (August 6, 2015). Previous updates were released for iOS first and Android a few days later.
During the time of this update, the Anniversary Month and Halloween specials have been celebrated, even after the release of the prequel of the My Singing Monsters game, My Singing Monsters: Dawn of Fire. New costumes in Halloween have been done too.
Version 1.3.4
Bug fixes and optimizations.
Following the release of the Rare Mammott, the startup menu changed to include every Natural Monster to become Rare Monsters. The same menu also changed its background to include the background assossiated with the Rares.
Version 1.3.3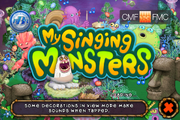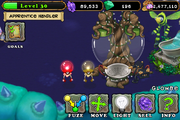 At last, we see the light! In a flash, the enigmatic Glowbes have appeared, and the monster world will never be the same. These tiny beings introduce a brand new feature for your islands... stunning light displays that you can customize like never before. Unlock the new Fuzer structure at Level 13 and become enlightened!
Also in this update:
More Premium Structures: The new Bonus Breeding Structure and Bonus Nursery bestow a huge advantage when trying for limited availability monsters like Seasonals or Rares!
Monikers: We've blown the roof off the max level cap, and extended it from 30 all the way to 60! Along the way, you'll earn new Monikers that are visible to Friends, so you can show off your Singing Monsters star status!
Help Guide: The wisdom of the Monster-Handlers is now available in-game in the form of a new, expanded Help section! Learn all the ins and outs of the monster world in this handy guide!
Scratch Ticket: You can now toggle whether the Scratch Ticket appears on launch or not!
Bug fixes and optimizations
The notorious bug after downloading new content has been fixed. No longer does the My Singing Monsters word logo have its Mammott's "O-head" or body turn into a strange semi-Mammott figure. Note that it was true that some time during Version 1.3.1 or so that the Scratch Ticket did start popping up after 24 hours. At a very close inspection, the categorizing of Decorations has changed so that the Obstacle Decorations are on the back of the catalog, instead of weirdly placed in between decorations.
The Maw now sings an extra part near the end of Air Island's song, following the song glitch related to the Recording Studio.
Version 1.3.2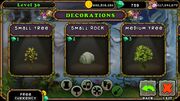 It's a new year for My Singing Monsters, one that promises to deliver lots of fun and excitement... as well as some surprises!
To get things started... remember how we've always said that the obstacles removed from your island will find new homes elsewhere? Good news – those new homes are your islands! For the first time ever, you can get obstacles as decorations in the Market!
More new stuff:
The lovestruck Seasonal Schmoochle monster is winging its way back to Air Island, to complement its Valentine's Day makeover!
Improved visibility for sales and promotions, so you always know what's on special when!
Bug fixes and optimizations
A new addition under the Options menu lets you "Delete All Recordings" at once.
Also included in this version, the Oaktopus in Shugabush Island has an extra birds' nest on its head.
Version 1.3.1
Have you ever longed to join in the Singing Monsters' song? Well, now your dream can be a reality! Introducing a game-changing new feature… the Recording Studio! This miraculous structure lets you record and save new musical parts for each monster. What's more, you can then share videos of your personalized islands for your friends to watch!
It gets better…
The Seasonal Yool is making its return to Cold Island just in time for the festive season!
New Rares are being discovered every week!
Bug fixes and optimizations
Even Rares that are later than this update, such as a Rare Cybop, are still included in Version 1.3.0. Another note is that on this update the Grumpyre has changed its expressions to become more... well, grumpier than it usually was.
Version 1.3.0

It seems like only yesterday that the world of My Singing Monsters was born… but believe it or not, it's celebrating its second birthday! As our "Anniversary Month" festivities conclude, a monsterload of new content awaits you:
Introducing super-valuable, ultra-coveted Rare Monsters! These special versions of your favorite characters are only available to buy or breed on weekends… log in often to make sure you don't miss out!
The previously inconceivable and impossibly bodacious Ethereal Wubbox is now available on Ethereal Island! This new 'Superethereal' monster presents a challenge like no other!
New 'Enhanced' upgrades for your Breeding Structure and Nursery which shorten waiting times by 25%!
New premium structure 'Maximum Mine' available on Plant Island!
Other bug fixes and improvements
Officially in 10th October 2014, although about 4 days late from the update, the original startup screen came back along with the original prices. Further more, the new logo has arrived with the Furcorn reunited with the Mammott to be in the same logo.
In the 5th of December, the Christmas-themed Cold Island arrived along with the Yool.
Version 1.2.9
Our monster-handler ears always perk up when we hear player feedback, and this update aims to please! Get a load of the cool features we've added:
Want to impress your Friends? Blow them away with Biggified Monsters! Double the size of your favourite singing denizens for a day, or permanently Biggify them and toggle the effect on and off as you please!
The long-awaited, much-requested Castle upgrade has arrived! Get the Paradise Castle, built in the image of Gold Island's own Crystal Castle!
New Daily Login Bonus! Log in every day to get better rewards!
New interface sound effects as you explore and master the Singing Monster universe!
Other bug fixes and improvements
Also, as part of a later update, the Fung Pray was released and the Hoola was removed from the Market.
Version 1.2.8
The monster-handlers are always working to 'tune' things up! Some improvements:
The amazing Wubbox now unlocks even sooner at Level 20!
Tutorial optimization
Other bug fixes and improvements
Also, as part of a later update, the Jellbilly was released.
Version 1.2.7
Bug fixes and improvements
Version 1.2.6
Manage your social experience like never before with a brand new and revamped Friends menu! Using the valuable feedback we've received from our players, many new features have been implemented:
Import your Facebook friends to update your My Singing Monsters avatar!
Sort your Friends using new tabs – Favorites, Torch requests, Alphabetical order, and Level order.
Mark your closest Friends as Favorites so that they appear in the Favorites tab!

View which friends have requested Torch lighting using the Torch tab!
Tap a Friend's Display Name to see how many times they have lit your Wishing Torches and vice versa!

Navigate easily between Friend pages using the arrow buttons, including moving to the beginning and end of the list!
Other bug fixes and improvements
Months later, in an uncategorized update, the Bellowfish and then the Dragong were released.
Version 1.2.5
The first update of 2014 brings with it many awesome features and improvements, including:
New Paths for Ethereal and Shugabush Islands!
Scratch Ticket and Memory Game prizes now scale as you level up!
Improved Top Islands System: One island per player can be featured once a month, so more players have a chance to get their islands featured!
Shard to Diamond Conversion: now it works the opposite way! Take those hard-earned Ethereal Shards and convert them to Diamonds!
Wishing Torch Timer: Visit a Torch's Info to see how much burn time it has left!
Retry Breeding Button: Breeding for a rare monster and know the combo? Tap Retry in the Breeding Menu!
Torch Flame Color: Permanently-lit Wishing Torches now burn a brilliant blue!
Fixes that pesky Hotel Check In crash
Other bug fixes and improvements
Also, as part of a later update, the Humbug and the Kazilleon were released.
Months later, in an uncategorized update, the Blabbit returned to the Water Island.
Version 1.2.4
Introducing Shugabush Island! Starting with this update, some monsters can be teleported to this new place when they acheive level 15. Once they're there, new Legendary Monsters may be bred from them, provided that a Shugabush is on the island.
Improvements to the game's social features: Friends can also use Facebook accounts to speed up breeding times in archipelagoes.
Buyback Feature: When a monster is sold, it remains on the market until a different monster takes its place. Using the buyback feature, you can pay back the same number of coins you received from selling the creature and get it back.
Other bug fixes and optimizations
This update also reintroduced the Yool in the game for a limited time, and changed Cold Island 's appearance so it was decorated for Christmas.
Version 1.2.0
With My Singing Monsters having its first anniversary (Happy Birthday!), update 1.2.0 brings a lot of long-awaited features:
Ethereal Island is introduced! Players with Ethereal Monsters may level these monsters up to the maximum (level 15), enabling a new feature: Teleportation! Teleporting removes a monster from the island it was born on and resets its level, but in turn it unlocks the breeding capabilities of the monsters, thus enabling players to produce new monsters: the Nebulob, Arackulele and the Whisp.
New Currency: Shards (available in Ethereal Island only)
​Version 1.1.7
New Structure: Time Machine! This little clock is able to modify the song of an island by messing with its speed and tune.
Decorations are now categorized by type and ordered according to their prices.
Improvements in the Friends menu: Friends can now be removed.
View Mode now available in Gold Island and in the islands accessible through the Friends menu
The Market no longer has its own song, so players will hear the song of the island that they are currently on.
Objects now "Squish and Bounce" when interacted with.
The game can now be played in Russian and Portuguese.
New art and music for the loading screen
Other bug fixes and improvements
​Version 1.1.6
Version 1.1.5
Minor Bug Fixes and tweaks
Version 1.1.4
Easter has arrived! Water Island receives a redesign while the Blabbit arrives in the game for a limited time.
Version 1.1.3
Islands from all over the world can be rated and become Top Islands. Doing so grants diamonds to the owner, and places its island in a special secion of the Friends menu.
The Memory Game and the Scratch Ticket (Weekly Version) mini-games arrive, giving players another way to have fun, and win prizes as rare as Seasonal Monsters!
Anonymous Login: relieves the need of having a Facebook or Game Center account, but makes impossible the use of another device with the same account and monster archipelago, thus causing the progress to become inaccessible if the device is lost or irreparably damaged.
Version 1.1.1
Version 1.1.0
Two new islands are introduced: Gold Island and Earth Island, each one with monsters or characteristics previously unseen in the game.
The Castle receives one more upgrade, the sixth in total
The Extravagant Castle arrives.
Version 1.0.4
Halloween arrives, introducing the Punkleton and changing the look of Plant Island until the end of October.
Version 1.0.3
Water Island is introduced, bringing lots of new monsters into the game.
Some connection issues were fixed.
iPhone 5 devices now are fully supported.
Decoration sizes can be changed, but this does not affect the actual area that the decoration occupies, being merely aesthetic.
Decorations that are Liked by a monster may be bought while viewing the monster itself.
Friends' islands can now be entered
The logo changed from a Furcorn to a Mammott.
Version 1.0.2
Air Island is introduced, thus bringing lots of new monsters to the game.
Monsters undergo slight growth when fed.
Some connection issues were fixed.
​Version 1.0.1
Issues related to Game Center and Facebook accounts were fixed.
Some connection issues were fixed.
Graphical optimization
Bug fixes
Version 1.0.0
The game is released, introducing Monsters, all with their own songs and Elemental Configurations, for players to raise, breed and hear singing.
Before worldwide release, the game passed through beta testing, so many things were changed since the prototype.