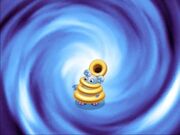 You use the Teleporter to teleport monsters to an Outer Island. Doing so requires the monster to have a specific level. Monsters are selectively exclusive to teleport to certain Outer Islands, which is a restriction. It costs coins to teleport and it takes time to teleport. After the Monster is Teleported, the player is awarded with Diamonds.
Islands
This table lists the monsters that are part of Dawn of Fire, and shows which Outer Islands they can be Teleported to.
Notes
Shrubb is currently the only monster to be on Party Island and no other island.
There are currently no Quad-Element Monsters on Party Island, and there are no Quint-Element Monsters on Cave or Cloud Island.
Only one monster, the PomPom, can be teleported to three islands.
Party Island has the lowest number of teleportable Monsters, while Space Island has the highest.
Ad blocker interference detected!
Wikia is a free-to-use site that makes money from advertising. We have a modified experience for viewers using ad blockers

Wikia is not accessible if you've made further modifications. Remove the custom ad blocker rule(s) and the page will load as expected.