Before you contribute...
"My Singing Monsters" is a family-friendly game, intended for young people as well as adults.  We expect that this wiki will be read and enjoyed by all, and it's perfectly fine if youngsters participate in wiki activity.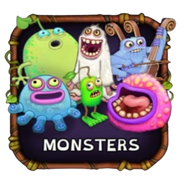 We don't have a lot of firm rules.  We want people to have fun, and we
do
expect people to make positive contributions to the wiki.  We
don't
tolerate vandalism, profanity, or -- in general -- people being obnoxious or destructive to our little community.
Hang out, make some friends, learn something, play with musical monsters.  Enjoy!
BunsenH (talk) 23:14, April 15, 2015 (UTC)
Update
The gallery on the left needs major updating. We should use some of the updated screenshots of pictures too. How can we do so? Qwertyxp2000 the second (talk) 20:38, December 6, 2014 (UTC)
@BunsenH, Punctdan, Evac156, 56 Pontiac, Qwertyxp2000 the second: Hello? Update pictures? Qwertyxp2000 the second (talk) 03:36, December 13, 2014 (UTC)
Instead of just showing various pictures from the wiki, we could take these pictures and combine them into one picture - like having a compilation of monsters instead of just a Noggin for the monster picture. I'll get to work on it soon. Lap 21:08, April 29, 2015 (UTC)
It looks like the Windows version is no longer available.  Probably should remove that from the list of available versions... Anopheles0 (talk) 19:47, December 15, 2015 (UTC)
It still appears to be available for download from Big Fish.  Why do you say it isn't available?  BFG isn't doing any more updates on it, so it's missing a lot of features, granted. BunsenH (talk) 21:03, December 15, 2015 (UTC)

It is still available, it is just there are no more updates to that game. Qwertyxp2000 the second (talk) 02:28, December 16, 2015 (UTC)
I looked for it on the BigBlueBubble website, and found links to only the iOS and Android versions, and no reference anywhere for the Windows version.  I was not aware that there was a secondary website called Big Fish. Anopheles0 (talk) 06:01, December 16, 2015 (UTC)
Ad blocker interference detected!
Wikia is a free-to-use site that makes money from advertising. We have a modified experience for viewers using ad blockers

Wikia is not accessible if you've made further modifications. Remove the custom ad blocker rule(s) and the page will load as expected.