The StarShop is a place where the player can go to purchase Rare Monsters and exclusive decorations with Starpower. It was introduced in the 1.3.6 update.
Rare Monsters
Availability
Different rare monsters are available for purchase at different times. Check news to find out if any are currently available. The one exception is the Rare Wubbox which is available all the time.
Cost
| Rare Monster | Cost |
| --- | --- |
| Rare Wubbox | 1 |
| Single Element Rare | 500 |
| Double Element Rare | 750 |
| Triple Element Rare | 1250 |
| Quad Element Rare | 2500 |
Monsters can only be purchased for an island if they can exist on that island. For example, you can buy a Rare Noggin on Plant Island, but not on Cold Island. Monsters bought from the StarShop are eggs and must be incubated just like normal eggs before they can be placed on an island. The nursery must be empty to purchase an egg.
There are also frequent "Rares Duet" offers where two Rares of opposite elements in the StarShop are on sale, which lasts a week. When such Rares are offered they become available for that duration (or discounted by half in pre-2.0.0.).
Unfortunately, since one day after the 2.0.0 update, released in September 2016, the Rares will only be in the StarShop when there are certain limited events, or only available on a rotational basis, making the Rares more "rare". However, due to the multitude of complaints by the My Singing Monsters fans, it had been announced that the Rares would become all-year-round available from 23rd September 2016 to the end of September, at the time also decreasing their cost by 75%. Also fortunately, in the same post they announce rotational basis of a Rares Duet every Wednesday (in Canadian Time) from October 5th 2016, to balance against the "Rare Monster crisis" which would otherwise mean no Rares after September 2016.
Decorations
The following decorations are available from the StarShop. These are available all-year and all-day.
| Decoration | Image | Cost | Description |
| --- | --- | --- | --- |
| Thumpies Totem, Too | | 200 | The magic of the trees that connects the realm of Thingia with the Thumpieverse is also at the root of their shared relationship with the Monster World. That's how we end up with artifacts like this other Thumpies Totem, which tumbled across dimensions to arrive here. While prior incarnations featured other Thumpies, this one celebrates Izit, Tawooo, and Anyanka. |
| Star Rocks | | 300 | There was some controversy as to what these floating relics should be called. One of the suggestions that was 'floated' around was Rockstars, since they positively radiate Starpower energy. However, Shugabush of Plant Island tells us that means something different where it comes from, so the monsters went with Star Rocks instead. |
| Freed Thing | | 500 | Through the combined efforts and resourcefulness of the Singing Monsters, one of the Ambered Things has been set loose! Flutter relates that the Realm of Thingia, from which it originates, is in fact older than the Monster World, but that it was equally affected by the same events that trapped Kayna, because of the binding magic of the trees. Whatever that means. |
| Mount Knottshurr | | 750 | Fashioned in the likeness of the mythical Mountain Morsel, Mount Knottshurr is made up of Bubblerite shavings held together with slobber paste. Despite its artificial origin, it seems to have taken on a life of its own. What else could you expect in the magical Monster World? |
| Boss Monument | | 1,250 | This superb statue celebrates the five Quad-element Monsters that call the Natural Islands home. Nicknamed 'The Bosses', these dynamic figures serve as role models to the other monsters, and epitomize the cooperative power of harmony. |
Rare Duet History
Main article: Rares Duets
From October 2016 to November 15th 2017, Rares Duets appeared every week for a full week. It started every Wednesday, on precisely 19:00 UTC (except for the first week, which was every Tuesday). They provided two Rares of opposite elements and make them available in the StarShop for that week.
For more info, see Rares Duets.
Notes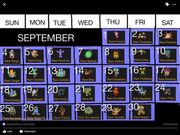 In the description of the 1.3.6 update, "StarShop" is written with bicapitalisation, or "CamelCase".
Some of decorations are very similar to PlayStation Vita exclusive decorations. Specifically, the Thumpies Totem, Too resembles the Thumpies Totem and Mount Knottshurr resembles the Mountain Morsel.
Formerly the Rares Duets from October 2016 to present started every Tuesday, but changed due a random mishap that had caused Starpower to arrive too late, causing Big Blue Bubble to extend the first Rares Duet.
Ad blocker interference detected!
Wikia is a free-to-use site that makes money from advertising. We have a modified experience for viewers using ad blockers

Wikia is not accessible if you've made further modifications. Remove the custom ad blocker rule(s) and the page will load as expected.