Each monster's egg, called spores in the files, is uniquely identifiable, even before the egg hatches. Since each monster in the game is also made from a unique combination of elements, these eggs also represent the 'genetic material' of the two parents shown at the top of the breeding structure. The Kayna doesn't have an egg; its egg only appears in My Singing Monsters: Dawn of Fire.
All Rare monsters have the same eggs as their non-Rare counterparts, except that a a shimmer, or gleam, effect will appear across the egg from left to right in Breeding Structures and Nurseries.
Natural Element Eggs
Single Element Eggs
Double Element Eggs
Triple Element Eggs
Quad Element Eggs
Ethereal Eggs
Single Element Eggs
Double Element Eggs
Supernatural Eggs
Legendary Eggs
Werdo Eggs
Seasonal Eggs
Vita Exclusive Eggs
Mythical Eggs
Glowbe Egg
Notes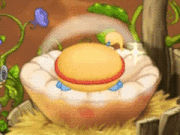 Some eggs such as Glowbe egg can only be seen on Composer Island Edit Mode.
Glimmers to Rare eggs were added in Version 2.0.9.