| | | |
| --- | --- | --- |
| " | With downy puffs shimmering in the slightest breath of wind, a Dandidoo sashays elegantly across the landscape. It is much less inclined to strut after it has gone to seed and the puffs have blown away. | " |
Description
The Dandidoo is a slim ostrich-like monster, colored in stripes of light green and darker green. It has no arms or wings of any kind. It has a tail and hair that resemble white dandelion tufts.
When this monster is idle, it stays in tempo by fashionably shaking its head to the beat.
Song
Audio sample:
The Dandidoo's song lyrically resembles the Toe Jammer & Kazilleon's Song, although the Dandidoo's voice is higher and clearer.
On Cold Island,It sings Dooh Do Doo Doo Do Doo Do, Do Doo Do Doo Dootedee!
On Water Island,It sings "Dooh De De Doo De De Doo Do Do De De Doooh."
On Earth Island,It harmonizes with Furcorn.It sings "Doo de doo doo doo.Doo de doo doo doo.Doo de dooo doo doo di doo doo doo di doo doo doooh.
Breeding
The Dandidoo can be produced by breeding monsters with the elements of Plant and Air.
Earning Rate and Maximum Income
Earning rate is in coins per hour and depends on Happiness % (Likes increase Happiness), also each monster has a limit to how much income it can hold at a time. Increasing the monster's level increases the limit.
Level
Per Minute
Maximum
0% Happiness
25% Happiness
50% Happiness
75% Happiness
100% Happiness
1
4
5
6
7
8
300
2
6
7
9
10
12
480
3
10
12
15
17
20
720
4
13
16
19
22
26
960
5
16
20
24
28
32
1,200
6
19
23
28
33
38
1,440
7
22
27
33
38
44
1,680
8
26
32
39
45
52
1,920
9
29
36
43
50
58
2,160
10
32
40
48
56
64
2,400
11
35
43
52
61
70
2,640
12
38
47
57
66
76
2,880
13
42
52
63
73
84
3,120
14
45
56
67
78
90
3,360
15
48
60
72
84
96
3,600
Feeding Monsters
Each monster needs to be fed four times before it reaches the next level. Increasing the monster's level increases the coins earned per minute, as well as the maximum coins earned.  The food per level is the same for all double element monsters and can be found in this article.
Likes
Every monster has different things that they like. For every unique object that they like that's placed near the monster (if not using a Unity Tree), the monster's happiness will increase by 25%. Placing two of the same liked item near a monster will still only increase happiness by 25%. Below are the things liked by Dandidoo:

See the Likes page to view a complete list of all monsters' likes.
Wublin Egg Consumption
While trying to breed other monsters (particularly monsters with a very low chance of breeding), the following Wublins can be used to "dispose of" Dandidoo eggs immediately instead of putting them into a Nursery and having that Nursery not be available.
Note that bred monster eggs can only be "disposed of" into inactive Wublin statues; active Wublins do not accept monster eggs. Also note that inactive Wublin statues to which you have already disposed the number of Dandidoo eggs that Wublin accepts, will no longer be available as a "recycle bin" for such eggs.
Strategy
Some items to take into consideration when designing your island by strategy are number of beds for the monster, rate of income per bed, max income per bed, and time for max income to be reached. The income below is for level 15:
| | |
| --- | --- |
| Number of Beds | 2 |
| Rate of Income High | 96 |
| Rate of Income Low | 48 |
| Max Income | 3,600 |
| Rate of Income per Bed High | 48 |
| Rate of Income per Bed Low | 24 |
| Max Income per Bed | 1,800 |
| Time to Max Income @ High | 37:30 minutes |
| Time to Max Income @ Low | 1:15 hours |
Name Origin
Dandidoo may be a play on the dandelion flower and the monsters' "doo" sounds. The dandelion, when reproducing, turns white and fluffy, enabling its seeds to scatter and travel long distances in the wind. 
Rare Version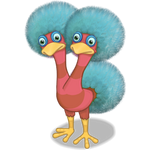 Rares are special versions of monsters that are only available to buy and breed on weekends. Each weekend a different rare is available to buy or breed. The breeding combination is the same as a regular monster, but the breeding time is longer, the "likes" are different, and the earning rates are higher. They are not yet available in the Windows version of the game.
Find out more about the rare version of the Dandidoo on the Rare Dandidoo page.
Notes
The Dandidoo is composed of the Plant and Air elements, but cannot be found on the Plant and Air islands.
In the My Singing Monsters Spunge and Dandidoo Comic T-shirt, the Dandidoo can be seen without its Dandelion puffs.
The Dandiflorets are the dandelion puffs seen on the Dandidoo. They have been mentioned in the Dandifloret Path, in one of Air Island's market aisles.
My Singing Monster fan Wbangca, after placing a Dandidoo, said "Alright here it is. The Dandidoo, I think that's what it's called." This quickly became a meme and even was in a "The Duck Song" parody, called "The Dandidoo Song". The meme was "killed" by its creator, Mofix in 2017.
Special Occasions
     Main Article: Special Occasions
Christmas
During the Christmas season of December, all Dandidoos (on all the islands) wore Santa hats and red scarves as part of the Cold Island Christmas celebration.
Ad blocker interference detected!
Wikia is a free-to-use site that makes money from advertising. We have a modified experience for viewers using ad blockers

Wikia is not accessible if you've made further modifications. Remove the custom ad blocker rule(s) and the page will load as expected.