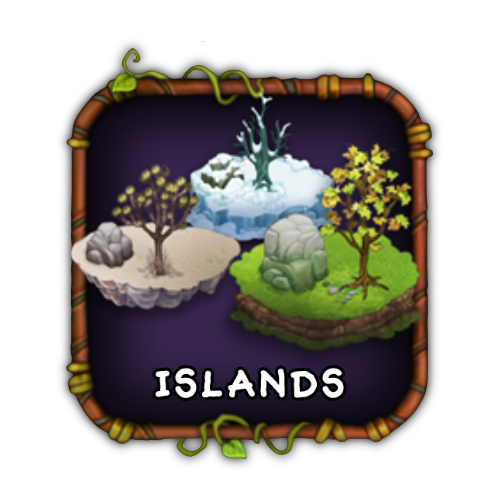 This article is about the Islands of My Singing Monsters. For the Islands of My Singing Monsters: Dawn of Fire, see Islands (Dawn of Fire).
Islands are the places in which monsters are located. There are currently a total of sixteen islands: eleven of which are unique and five that are almost identical copies of other islands. Each island has a unique song that is produced by the monsters who live there and work together. Most islands will be covered with Obstacles, or trees and rocks, that need to be cleared in order to make more space. These trees and rocks will cost Coins (
) to be removed and Diamonds (
) to be added back to the island. As a special note, if the camera is zoomed all the way out from an island, a face can be seen on the front of it.
The player first begins on Plant Island, as it is the only island unlocked at the start. To navigate between the other islands, the Map (
) is used, which is unlocked when Cold Island is bought. Buying Cold Island also frees the restriction on Gold Island and Ethereal Island. When Air Island is purchased, Shugabush Island becomes available. All Natural Islands, that is, those that manifest the elements of Plant (
), Cold (
), Air (
), Water (
), and Earth (
), must be purchased in order after the player begins on Plant Island and the player must be at least level 4 in order to purchase them. The level 4 requirement also extends to Gold Island, Ethereal Island, and Shugabush Island. Tribal Island and Wublin Island are unlocked for free at level 10 and level 13 respectively, while the Mirror Islands become available for purchase at level 20. Composer Island is unlocked for free at level 7.
Market and Map Image
Island
Cost
Plant Island
Free / Starter
Cold Island
200,000 ,
Reach Level 6
Air Island
750,000 ,
Reach Level 6
Water Island
1,500,000 ,
Reach Level 6
Earth Island
7,500,000 ,
Reach Level 6
Gold Island
Free, Reach Level 6
Ethereal Island
Free, Reach Level 6
Shugabush Island
Free, Buy Air Island, Reach Level 6
Tribal Island
Free, Reach Level 6
Wublin Island
Free, Reach Level 13
Mirror Islands
100 ,
200 ,
300 ,
400 ,
500 , Reach Level 20
Composer Island
Free, Reach Level 7, Subsequent songs can be purchased with
Notes
The Gold Island can only house duplicates of monsters which have achieved level 15 on the natural islands, which are then placed on the Gold Island.
The completed song of most islands may be bought in the Market.
Every island has a face-like area in its front part. This is because the game's lore treats them as ancient monsters, named "Colossals".
Every Natural Island is missing one of the five natural elements. A monster cannot exist on any island which is missing any of the monster's elements.
Some monsters need to be Teleported to certain islands in order to live there:
The map and All Islands except Wublin Island, Mirror Islands, and Composer Island are unlocked at level 6.
Gallery
Subcategories
This category has the following 12 subcategories, out of 12 total.
A

C

E

E cont.

G

M

N

P

S

W
Pages in category "Islands"
The following 7 pages are in this category, out of 7 total.
Media in category "Islands"
The following 14 files are in this category, out of 14 total.
Ad blocker interference detected!
Wikia is a free-to-use site that makes money from advertising. We have a modified experience for viewers using ad blockers

Wikia is not accessible if you've made further modifications. Remove the custom ad blocker rule(s) and the page will load as expected.