Bamboo Flute is the first Workshop Crafting Item and overall 7th Crafting Item to be unlocked in the game. Its market price is 152 - 253

. It is unlocked at Level 7.
Description
The Crafting Item Bamboo Flute is a pan flute made of bamboo, tied with a strip of what appears to be green tape.
Uses
There are no Crafting Items that requires Bamboo Flute. However, Bamboo Flutes can be fed to monsters or given to the Skyship.
Crafting
To craft a Bamboo Flute, 2 Bamboo (

) and 1 Grain (

) are required to be made and be processed in the Workshop. Starting crafting of a Bamboo Flute requires dragging the "Bamboo Flute" icon into the Structure once. It requires 30 minutes to complete crafting of one Bamboo Flute, down to 20 minutes, 41 seconds on a max-level Workshop.
Once a Bamboo Flute has finished production, it can be collected for 2

.
Market availability
Purchasability
Unlike most early-game Crafting Items, Bamboo Flute is not easy to find in the Market.
Sellability
tba
Skyship requirements
tba
Strategy
(insert strategy involving production of bamboo flute)
Notes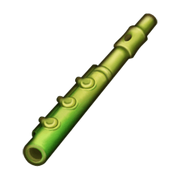 This is the first non-Crystal Crafting Item to reach over 15 minutes.
Concept Bamboo Flute not look like pan flute, more like real flute.
Similarly to Sugar Cane and Polar Teddybear, Bamboo Flute's prototype image was leaked in the initial release of the My Singing Monsters Official Guide. It was switched back to the real image in a later release.
Ad blocker interference detected!
Wikia is a free-to-use site that makes money from advertising. We have a modified experience for viewers using ad blockers

Wikia is not accessible if you've made further modifications. Remove the custom ad blocker rule(s) and the page will load as expected.